Microwave Components and Systems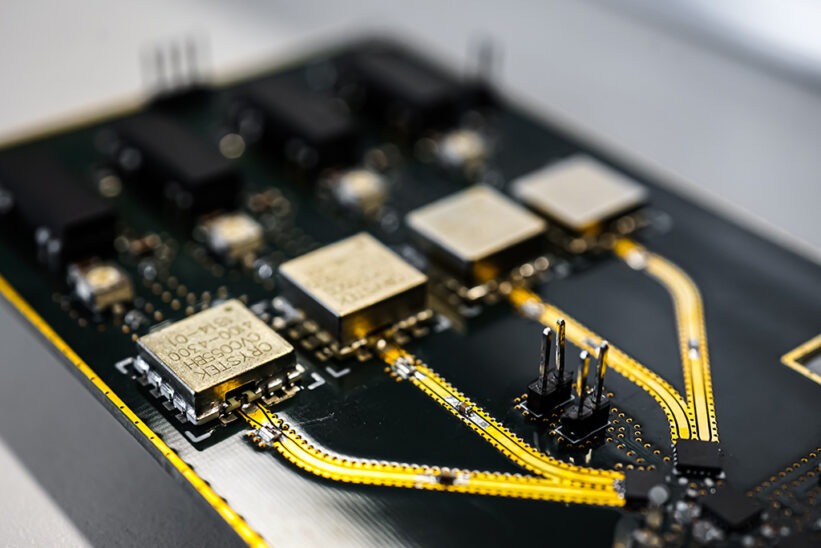 Our vocation
Inoveos brings support for any project you may have by offering customized solutions going from passive components to complete operational systems.
Be it a step within the development process or support on a project as a whole, Inoveos knows how to adapt to the different constraints and environments. Collaborative projects, co-developments or in full autonomy : we are open to all forms of collaboration.
We act in various sectors such as Defence, Aeronautics, Space, Telecoms, Medical, EMC or Scientific Research. Many major actors have put their trust in us.

So as to provide cutting-edge solutions we rely on our R&D as well as on the  implementation of high-performance tools in our labs but above all, we rely on people.
We are a team of 12 all driven by the same goal : our customers' satisfaction. Be it via studies and courses or via experience we have skills in many areas allowing us to answer a wide range of needs.
We are able to carry out projects from the study phase to the manufacture of the end product. We rely on solid skills in :
Design
Simulation
Integration
Control / Automatism
Manufacture
Characterisation / Qualification
Industrialization
All of these steps rely on the use of appropriate tools such as :
CAD software : Solidworks®
PCB Design : Altium Designer®
Design and Simulation tools :

Programming and scientific calculations  : MatLab®
Electromagnetic and high power : CST® Studio Suite & Spark 3D®

Test and measurement devices :

Vector network analyser : up to 40GHz
Magnetization bench for gyromagnetic components
Micrometric control tools

LPKF® Rapid Prototyping solutions for the development of PCBs, antennas, filters…

Mechanical engraving
Laser engraving
Through-hole plating (chemical free or electroplating)
Solder paste applcation
Reflow soldering
Focusing on our resources enables us to be extremely responsive within our developments, our iterations and the research of solutions meeting your needs and requirements.
Initially distributor of components for high power applications, Inoveos  diversified and expanded its' activities to the design and manufacture of microwave passive components under its' own brand or in response to customer specifications.
We now offer a wide range of solutions up to 40GHz, designed to handle power. To meet your most demanding requirements, we can study and offer different topologies of components : planar (simple or multilayer), volumic (cavity / waveguide) and coaxial whilst fully respecting the desired band widths (narrow band, wide band, multi-band).
Our expertise is within the development of :
Filters and diplexers
Couplers
Combiners
Antennas
Loads and absorbants
Waveguide to coaxial transitions
Circulators – Isolators
Variable attenuators and gain equalizers
We are in a dynamic of continuous evolution and extend our knowledge and skills within the design of components thanks to our discussions, relationships and also thanks to us being part of a joint lab with the CNRS : INOGYRO.
Thus, we are able to meet increasingly demanding specifications.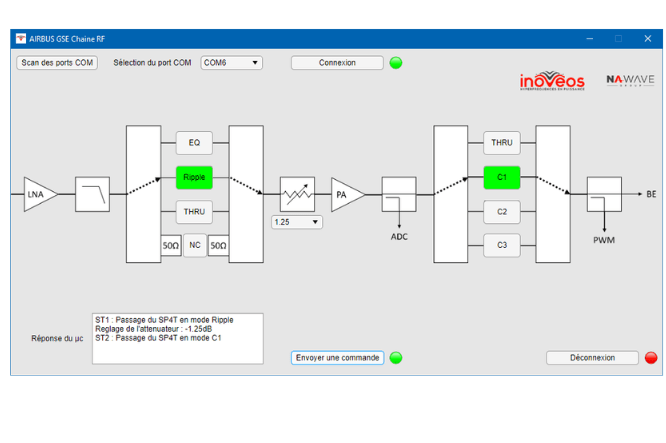 Inoveos designs, develops and manufactures complex microwave solutions. We can deal with the following phases :
Simulation and Design of complete systems
Development and implementation of HMI (Human Machine Interface) and of control systems
Manufacturing of the solutions
Characterization / Qualification of the product
Marking and Certification
This implies :
The study and creation of the RF architecture
The development and manufacturing of components and of RF cables 
The mechanical design in function of the constraints (general environment, white room, footprint etc.)
The development and integration of the software
The tests and measurements along with the qualification of the product
We are attentive to your needs and requirements and offer you customised solutions.
We carry out the study and the design of custom RF and electronic test benchs for the control and measurement of electronic systems or for the delivery of microwave signals (such as switching matrixes for example). These test benches are  intended – among other things – for satellite tests, instrumentation or even for the distribution of antenna signals.
The electromagnetic safety and radar systems are at the core of our activity.