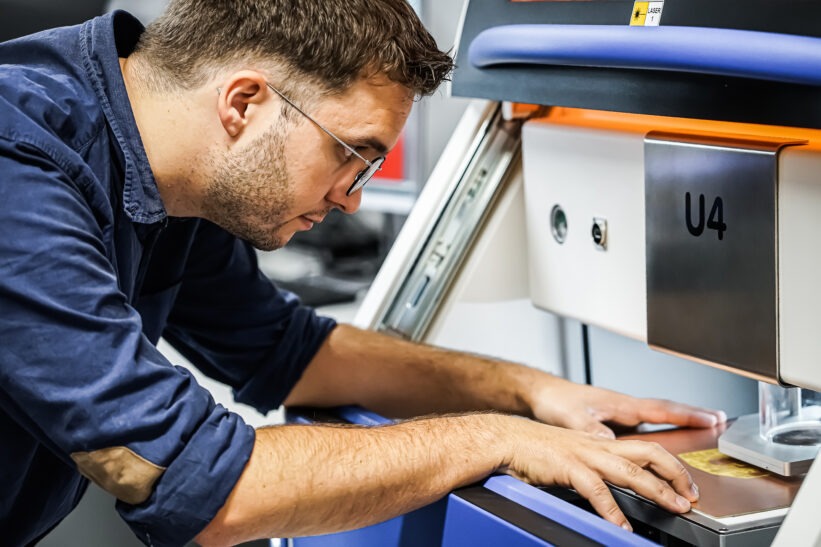 A turnkey PCB prototyping solution
Inoveos is the authorized distributor for LPKFs rapid prototyping equipment for France, Morroco, Tunisia and Algeria.
LPKF develops a range of products at the state of the art to offer innovative solutions that comply with the users needs. With more than 45 years experience and many solutions developed, LPKF stands as indisputable leader in the field of PCB rapid prototyping.
Inoveos accompanies you throughout the life cycle of your equipment : from the selection of the most suited solution to the integration in your lab.
Mechanical engraving
LPKF offers PCB prototyping systems adapted to almost any development need. With more than 45 years experience in the design and manufacturing of mechanical engraving systems dedicated to PCBs, LPKF constantly improves the systems by implementing the latest technologies and by taking into account customers' feedback and requirements. Each solution, be it manual or automatic tool change, has its' benefits. Whichever the machine, LPKF is very attentive to the ergonomics and precision of its' equipment.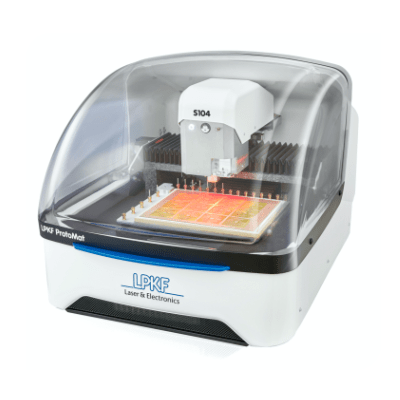 LPKF offers prototyping solutions adapted to each specific need.
That you have just one board to manufacture or batches of them, we help you select the most suited equipment. For occasional needs LPKF recommends a manual tool exchange machine: easy to use, accessible and ergonomic. For greater needs we have automatic tool change systems 15 or 20 positions with automatic tool adjustment.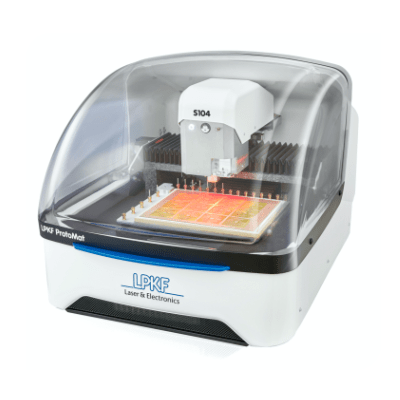 LPKF implements 3 different spindles with adjustable milling speed, all controlled by the LPKF Circuitpro software.
The LPKF ProtoMat E44 has a 40000rpm spindle with electric opening that is perfect for working on standard FR4 material with common thicknesses (0.8-1.6mm).
The S Series have pneumatic self-cleaning spindles. The S64 has a 60000 rpm spindle permitting 2.5D operations such as routing of cutouts in front panels for example.
The LPKF ProtoMat S104 has a 100 000rpm spindle perfect for more demanding materials such as Rogers RO4000® or RO3000®.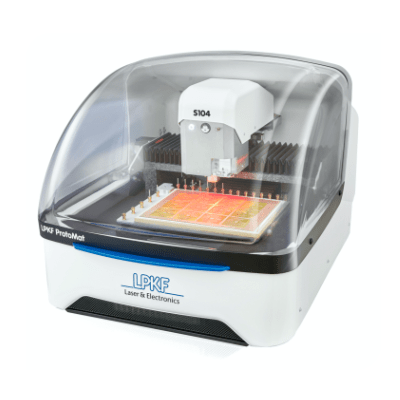 All of our systems are equipped with a camera.
The vision system has two goals :
ensure fiducial recognition for an alignment of +/-20µm,
and control the milling width.
Be it an LPKF ProtoMat E44 or an LPKF ProtoMat Sx4, the camera will do measurements to ensure that the milling width of the conical tools will be perfectly adjusted.
In addition, on the Sx4 series, the camera supports the automatic tool exchange function by checking the tool position for a fully secured operation.
Laser Engraving
The LPKF ProtoLasers enable a rapid removal of metallization on a wide range of laminated materials and can achieve 25µm traces on fired ceramics.
The laser engraved PCBs have right angles and respect the initial design in the WYSIWYG mode (What You See Is What You Get). This means that the results obtained are very close to the simulations.
The fine pitches achievable thanks to this technology is ideal for HDI boards (High Density Interconnect). With the LPKF ProtoLasers you take your electronic designs and prototyping one step further.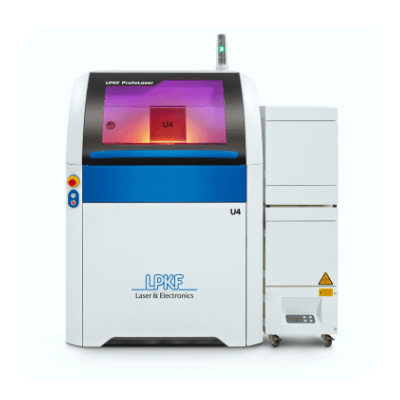 LPKF has several patents on its' laser technology in the electronic prototyping field.
LPKF laser systems operate a process that removes the metallization delicately hence limiting to the minimum the thermal heating of the material.
Thanks to this, many sensitive materials can be laser machined.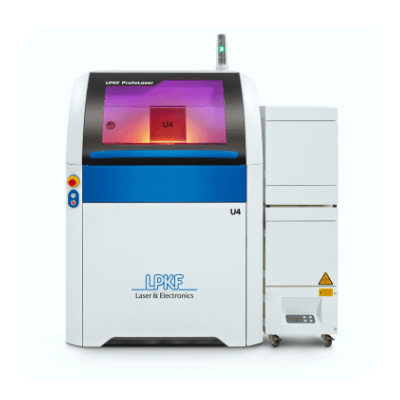 Our lasers are dedicated to engraving – on the surface – a wide range of materials.
The choice of the laser (PLH4, PLS4, PLU4, PLR4) is crucial as different systems will enable different applications such as :
the creation of vias,
the cutting of your PCBs
or even controlled depth engraving.
The choice of the source (from UV to Infrared) will be essential in the possible applications.
Each system has a different source. We accompany you in choosing the best solution in function of your requirements and your budget.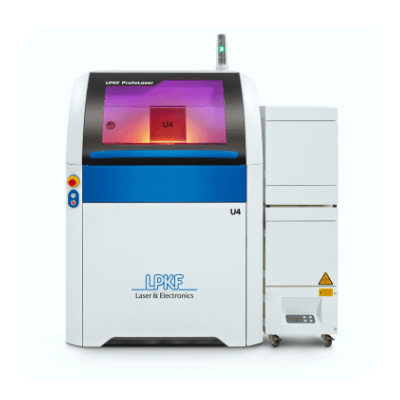 The LPKF ProtoLasers being ideal for the manufacturing of flexible boards, a ceramic vacuum table is a standard part of each system.
They also have a vision system for the alignment of double-sided boards. They are designed to be easily integrated in any laboratory and are easy to use.
The LPKF ProtoLasers come with their specific exhaust system that filters the laser fumes to ensure a safe operation of the machine.
Focus on the software LPKF CircuitPro
Every LPKF engraving system – be it laser or mechanical – is delivered with its' LPKF CircuitPro software. This software is developed by LPKF directly to make the machine easy to use. It is powerful but remains intuitive.
The complex data of import and calculation is hidden behind a straightforward interface. Furthermore, wizards are integrated to guide you step by step through your projects.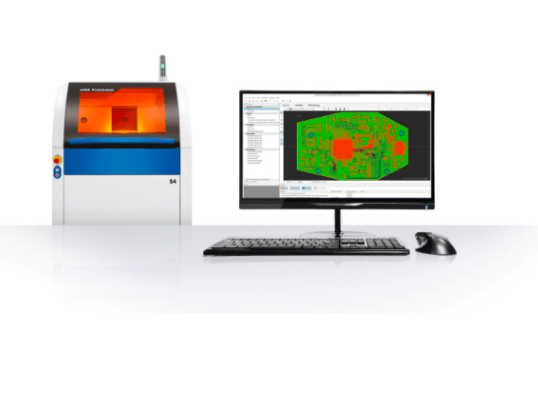 LPKF offers different software versions in function of if you are using a mechanical or a laser system because the data that needs handling isn't the same.
On one side, we have mechanical paths where we have to act on rotation and feed speeds and on the other side we have parameters such as frequency, power, delay and laser « tools ». This is why we have LPKF CircuitPro PM (ProtoMat) and LPKF CircuitPro PL (ProtoLaser).
Both versions have a common core, they enable :
the import of the most standard file formats in electronics,
the calculation of the toolpaths
and  the control of the machine.
LPKF CircuitPro processes data accurately. It imports the data and converts it in usable information. LPKFs' CircuitPro enables many functionalities.
For example we can automatize the layer recognition in function of a file extension, create new tools, new libraries of parameters, create fiducials, implement other process steps…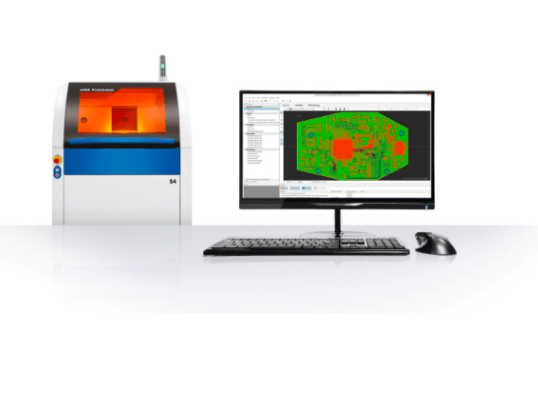 Providing a range of complementary solutions (mechanical or laser engraving, multilayer pressing, through-hole plating by different techniques), LPKF has implemented different Templates to guide the user through the different steps of the creation of the board. This means that in function of the type of board (multilayer or not, plated vias or not etc.) the corresponding phases will be directly implemented in the project.
Another important feature is that the interaction between CircuitPro PM and CircuitPro PL is easy meaning that it is very straightforward to do drilling of vias and cutting on a mechanical system, and just doing the engraving on a laser when the material is too thick for instance.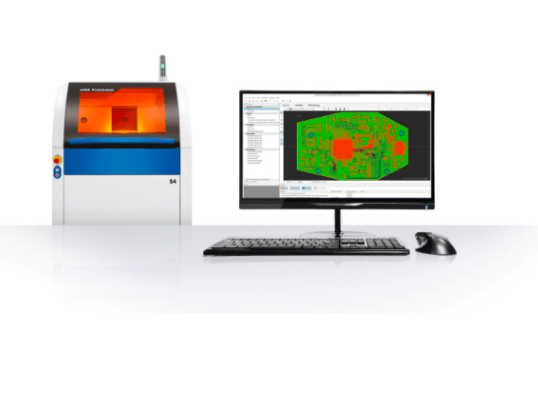 LPKF CircuitPro PM and PL are delivered with libraries for the most common materials for each machine.
For example, the library for a ProtoLaser H4 will not be the same as the one for a ProtoLaser U4 as the capabilities of each system aren't the same and vary in function of the type of source.
These material libraries use certain parameters (spindle rotation speed, tools usable for example on a mechanical system – powers / frequencies and "laser tools" for laser systems).
They are all the more useful as they are the starting point for the creation of new materials. We start with the material the closest to the one we would like to create and we act on the parameters to find the perfect parameters for the new material. With CircuitPro it is possible to create as many new materials as you wish.
Through-hole plating
Through hole plating is one of the major challenges when it comes to manufacturing PCBs with a professional quality. LPKF offers different reliable methods for through-hole plating hence making this step possible inhouse.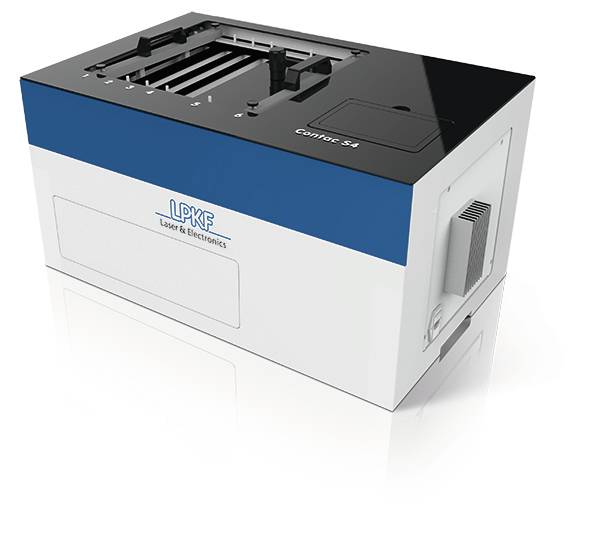 LPKF EasyContac : The most common approach is the manual riveting solution. LPKF offer the EasyContac kit that is a complete set with which you can plate vias from 0.6mm to 1.2mm thanks to copper-alloyed rivets.
It is a reliable solution where double-sided soldering isn't possible. It's easy to use, inexpensive, accessible to all and is perfect for boards with few vias.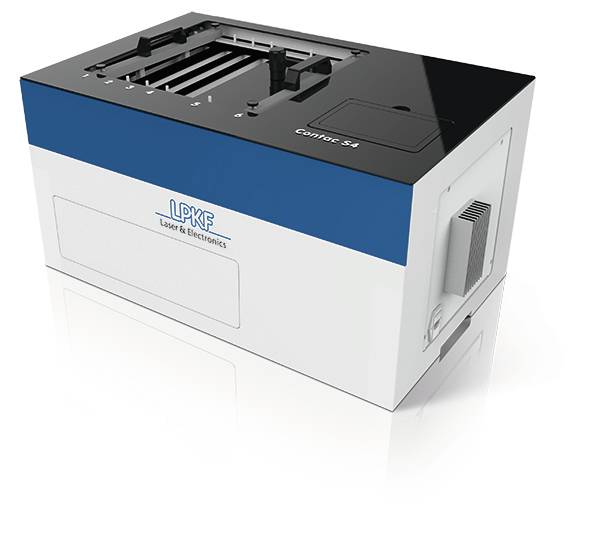 LPKF ProConduct : You have vias of 0.4mm to plate? The chemical solution is difficult to operate in your structure? The LPKF ProConduct® is designed for you.
This is a chemical-free conductive paste that we apply on the PCB, that we draw through the holes thanks to a vacuum table and that we then cure. Really easy!
We can use this solution on multilayers – up to 4 layers maximum. The number of vias doesn't affect the length of the process which is approximately 45 minutes.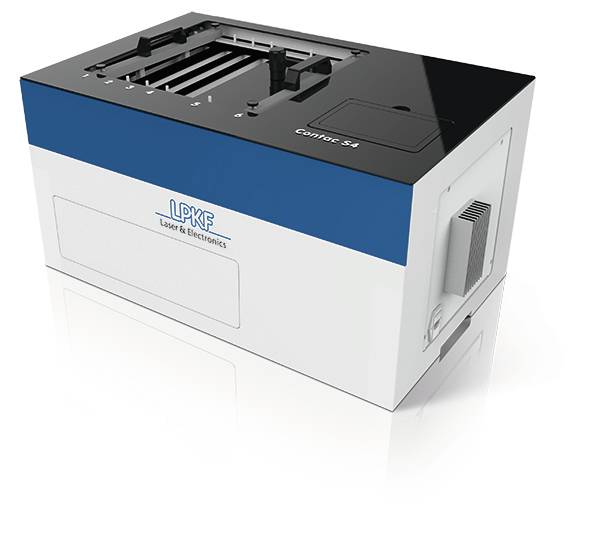 LPKF Contac S4 : For more challenging needs such as vias of 0.2mm in 1.6mm thick boards for example, we have the LPKF Contac S4.
This solution has an integrated touch panel that guides you step by step through each of the 6 baths of the process. Thanks to this, no specific knowledge in chemistry is required.
This system enables you to select the thickness of copper you want to build-up. With the LPKF Contac S4 you can plate vias on multilayers up to 8 layers while ensuring a homogenous copper deposition on the board.
Multilayer pressing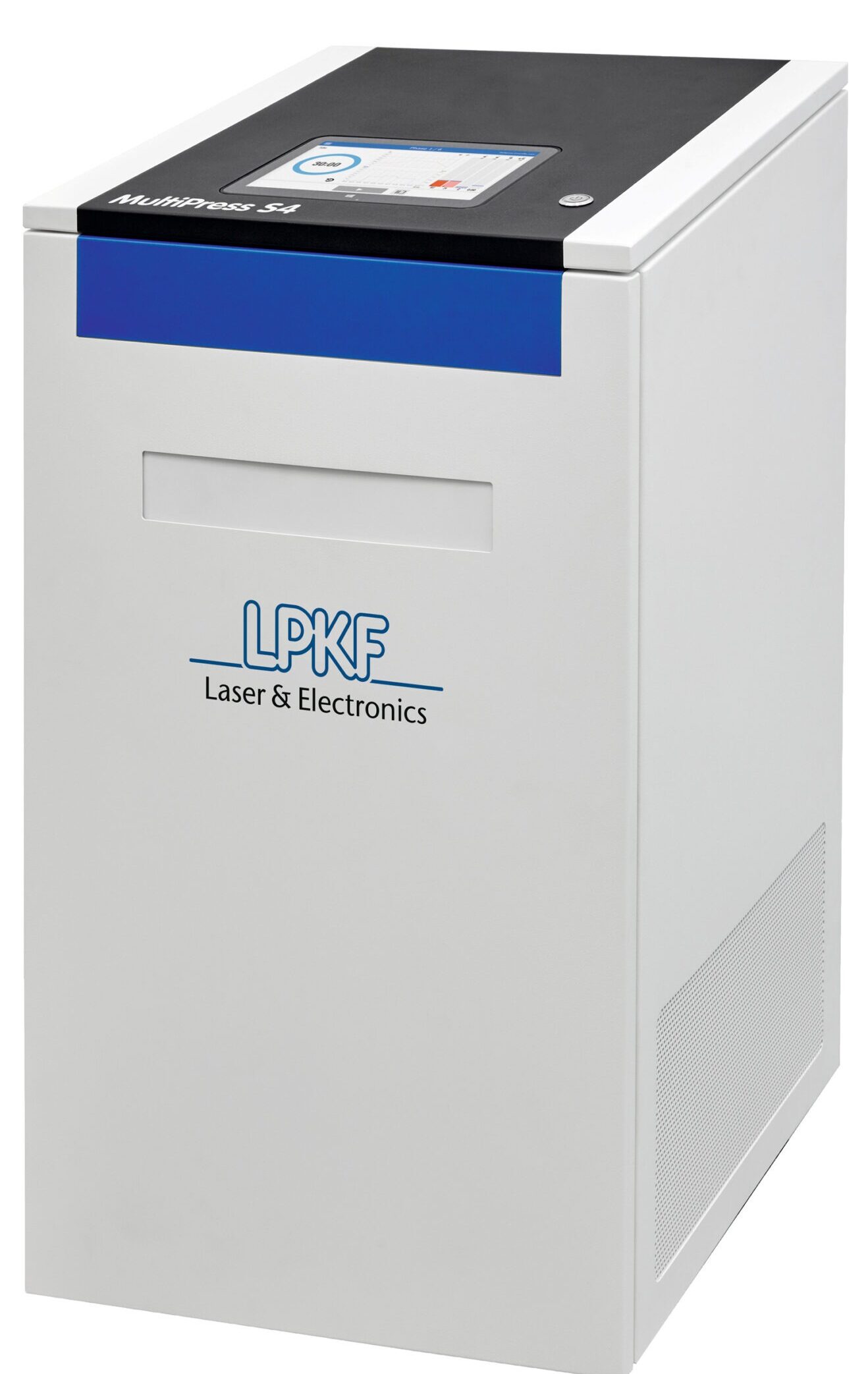 Thanks to the LPKF MultiPress, prototyping is brought to a higher level. Combined to an LPKF engraving solution and a through-hole plating process (LPKF ProConduct or LPKF Contac S4), the MultiPress is the key link enabling the inhouse production of multilayer boards in a fraction of the time that outsourcing would take.
In addition it ensures you the complete secrecy of all of your data.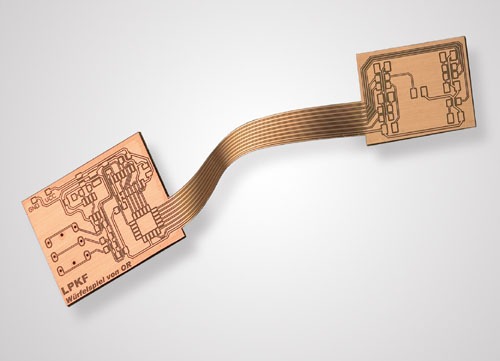 LPKF MultiPress S4 is a compact standalone multilayer pressing solution (50 x 98 x 50cm) with integrated vacuum function to work with FR4 but also with more challenging materials.
It doesn't require any specific table or support, and is equipped with wheels so as to be easily moved.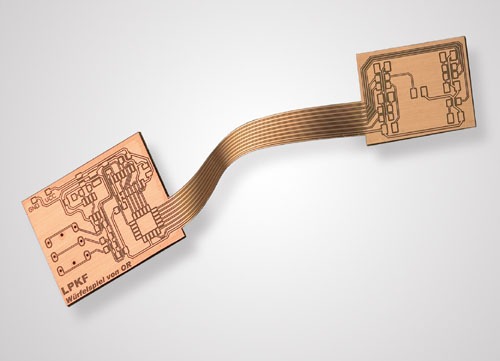 An unlimited number of profiles of heat, pressing, cooling can be set in the control unit of the LPKF MultiPress S4 enabling full customization of all the steps of the process. 5 profiles are preset.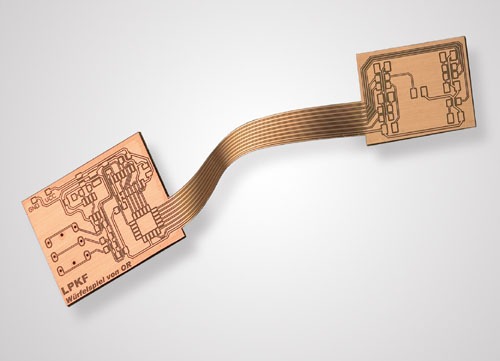 With this equipment, you will be able to prototype multilayers with up to 8 layers swiftly and easily thanks to the intuitive user interface with touch screen controls and guidance.
To make your multilayer, all you have to do is select the appropriate Template in the software of your LPKF engraving solution and it will then implement the pressing steps within the process of the project.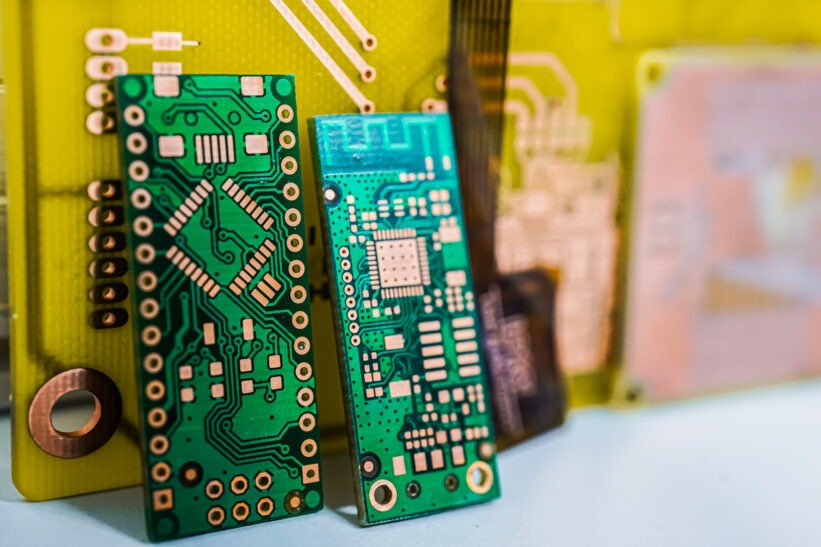 Finishing on the boards
ProMask : green paste for solder masks
ProLegend : white paste for the marking of text or logos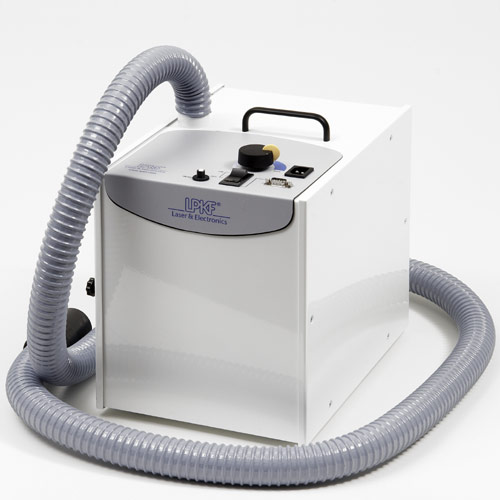 Accessories
Fume and dust exhaust systems
Compressors and compressed air filtering solutions
Other tools (starter sets, microscopes, caliper etc.)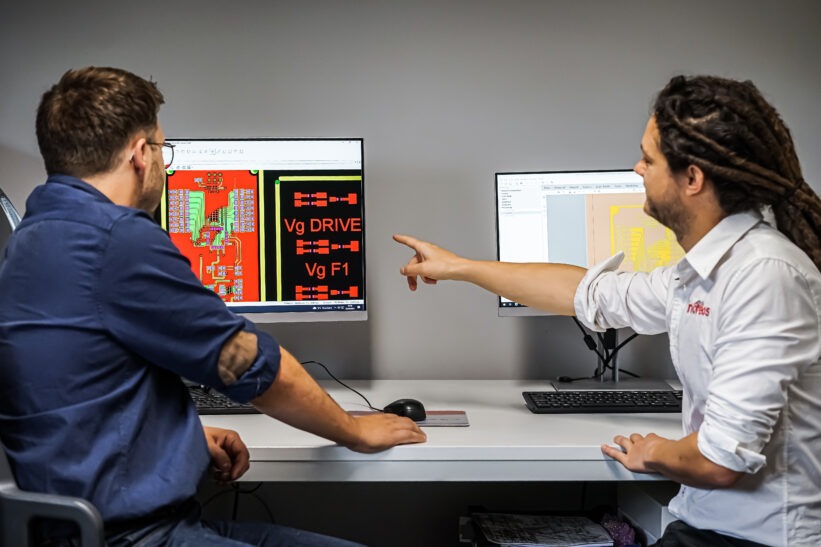 Technical Support

Installation & training
Preventive and curative maintenance
Support on parameter research or profile creation
Training : introduction to the software and solution
Dedicated training sessions (multilayer, through-hole plating, pocket creation…)
Product use advice – Hotline
INOVEOS comes to you to install the equipment, train your teams but also for preventive or curative maintenance or for specific training sessions. We can also – if required – organize the transport (back and forth) of your equipment for it to be inspected in our premises or for special operations.
Our service guys are specialized in the LPKF rapid prototyping equipment. They are regularly trained to the new solutions and have their PERL certificate (Person Exposed to Laser Risks) to install our laser systems safely.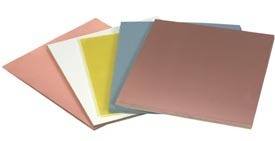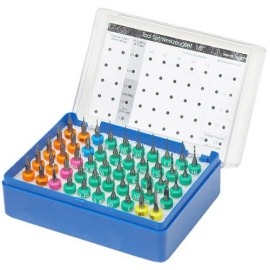 Inoveos offers all the elements necessary for the good operation of your LPKF equipment.
Consumables :

Tools (engraving, cutting, drilling)
 Sinter-plates
FR4 boards, Rogers® or Dupont® upon request
Specific multilayer sets (4-6-8 layers, special sets for blind and buried vias)
Solder paste, polyimid foils for stencils
Filters for vacuum systems or compressed air

Spare parts

Depth limiters
Motors
 Spindle
Tool-holders
To help you determining the tools to choose according their functionnalities, here is the link to our Mémo Outillage (FR)
You are thinking about doing your prototypes inhouse ?
Visit the LPKF virtual showroom and get in touch with us !